WRITING TEXTBOOKS
Students learn writing with ease! With these Bible-based textbooks, you will no longer have to put off your students learning writing because of their reluctance or your feeling insecure about this subject. With Mrs. Nash's textbooks, your student will enjoy learning and begin to write with confidence!
COURSE SEQUENCE
These courses teach one type of writing for a whole year. Students will maximize their learning when these courses are approached in this order: 1. Book Reports, 2. Creative Writing, 3. Essays and Research Reports - Level A, and 4. Essays and Research Reports - Level B.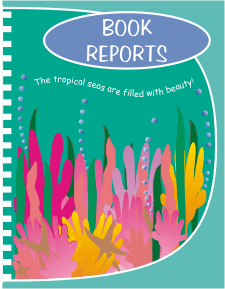 BOOK REPORTS
Do you have a student who likes to read or needs to read more? Is he/she ready to start learning how to write a composition? BOOK REPORTS encourages and develops these skills by making any reading adventure become a successful writing adventure.
"GREAT English Curriculum!
We do reading, writing, & grammar at the same time."
(Sher Birmingham)
"We just received your course. JOY, JOY, JOY!!! Your course is exactly what we have been looking for; and it's so refreshing to have a curriculum that is filled with TRUTH. Thank you, Thank you!
(Jesseca)
This course is so fun and easy-to-use that your student will slip into writing with ease! Moreover, with the preprinted forms, your student's writing will be organized and edited. The final book report forms are a delight for every student to color, making each report a masterpiece! At the end of each aassignment, you will be able to praise your student's work. Additionally, the keepsake record of your student's writing success will be a future blessing.
BOOK REPORTS is acclaimed by educators for its Biblical purity, clarity, and excellent writing results.
#13030 BOOK REPORTS: $36.00
(For students in grades 4-12)

CREATIVE WRITING
Do you have a budding story writer? Get those creative ideas on paper with this step-by-step method! This Bible-based textbook helps your student's writing skills blossom with many improvements. Your student will learn to write creative stories with dialog, action, and scenery. The textbook is also very successful at teaching how to develop detailed sentences and paragraphs with oral communications and descriptions that honor biblical values.
"I loved the Book Reports (textbook)!
We are going to try this one."
(Sher Birmingham)
"You course is so good. Thank you for MAKING a course like this that is such a great resource for us! The content is challenging, thorough, and from a Christian standpoint."
(Tandy, South Carolina Home Educators Association (SCHEA))
#11211 CREATIVE WRITING: $36.00
(For students in grades 5-12)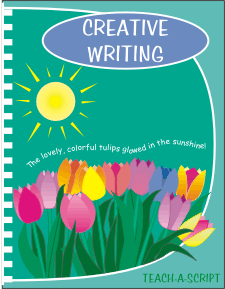 CREATIVE WRITING
Teacher's Manual
When you read these easy scripts; your student learns to write stories! This Bible-based Teacher's Manual is presented in an easy-to-follow format containing instructions about what to write on the chalkboard and when to expect a response from your student. Your student will gain valuable experience as the script also teaches how to takes notes for each lecture/presentation. Using this manual will help you to understand how to teach writing to your student and give you confidence for teaching future writing courses!
#11210 CREATIVE WRITING, Teacher's Manual: $18.00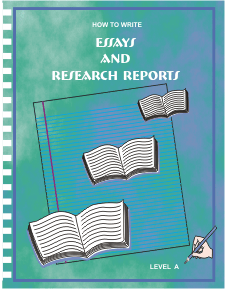 ESSAYS AND RESEARCH REPORTS
LEVEL A
Finally...a course is available that is such a natural way to learn writing, your student will master beginning to intermediate essays and research reports with truly wonderful results!
"This course is awesome!! It clearly lays out how to write with no stress!! The questions and topics are fun and interesting, and the whole thing takes such very little time out of your day...."
(Holly Cameron, The Old Schoolhouse Magazine)
This hands-on, Bible-based, consumable textbook is a wonderful teaching tool for any student who has never written an essay or research report before as well as students who have never learned the correct format for these types of compositions. The textbook's carefully guided sequence of teaching is a natural method of learning that takes the headache out of writing and breaks it into unique and manageable units. By the completion of the one year course, your student will have progressed from writing beginning compositions to intermediate compositions. Your student will also have acquired SAT/ACT essay writing skills.
"This is an excellent product and I really, really love it!!!!
It is so easy to use, but you get such wonderful results!!"
(Holly Cameron, The Old Schoolhouse Magazine)
"I just wanted to let you know how wonderful the report and essay writing textbook is! I only happened upon this via an email that I don't even know how I received. It's a God thing. I have been searching the internet for this exact type of instruction. I have been stumped in getting this concept across to my 2 children. Thank you Lord for this wonderful tool and for those who wrote it!
(Lori, Maryland)
#12010 ESSAYS AND RESEARCH REPORTS, LEVEL A: $36.00
(For students in grades 5-12)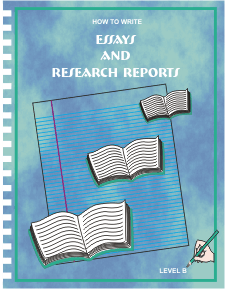 ESSAYS AND RESEARCH REPORTS
LEVEL B
Imagine...an English course that has an effective plan and purpose!
Observe...the mastery of writing essays and reports!
Watch...grammar and editing skills improve!
Rejoice...in the sharpening of written communication skills!
Here is another Bible-based textbook that contains such a natural way to learn writing, your student will master intermediate to advanced essays and research reports with truly wonderful results! Prior mastery of ENGLISH GRADE 7 or ESSAYS AND RESEARCH REPORTS, LEVEL A is strongly suggested.
"I wanted to also give you my highest praise for this book. In just the few pages that my daughter completed, when she went to take the practice GED test she scored the highest possible score on her essay. The teacher said she had never read a better essay. So thank you for a wonderful product!"
(Lyn, Home School Mom of Four)
This hands-on, consumable textbook cleverly teaches how to prepare and write persuasive essays and formal research reports from Bible-honoring assigned topics. Each day contains skillfully prepared questions or instructions to facilitate the writing process. Interspersed writing tips, grammar instruction, and practice sections also introduce new concepts that facilitate the growth and maturation of writing skills. For the research reports, your student will study the people, government, historical events, policies, decisions, and more that shaped individual countries. The research text for two countries is included; library research is required for the third country. Your student will also acquire SAT/ACT essay writing skills.
"This is such a natural way to learn writing!"
(Darla Freeman, The Honey Tree)
#12020 ESSAYS AND RESEARCH REPORTS, LEVEL B: $38.00
(For students in grades 7-12)