HISTORY BOOKS
Our story style history books draw your whole family back in time so that you can participate in important conversations and meetings, and walk with the men who shaped American history. Explore history as though you were actually there!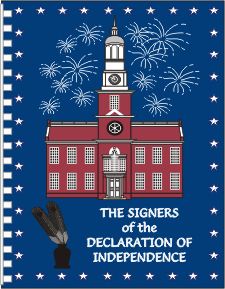 THE SIGNERS
of the
DECLARATION OF INDEPENDENCE
Your whole family will love this easy-to-read, story style book! It's an inspiring action-packed account of the events leading up to the writing and signing the Declaration of Independence.
This book shares the fascinating lives, convictions, and Bible-based beliefs of the 56 signers of the Declaration of Independence. Many were devout Christians, all were devoted to the cause of freedom. Gene helps you to follow the paths that led each man be a significant signer, as well as their sacrifices, triumphs, and contributions to the colonies. You will not be able to put this book down without feeling truly grateful for these men and the freedoms they created for every American citizen.
"I have looked over The Signers of the Declaration of Independence book, and I personally loved it."
Pamela Clark, Home School Support Group Leader
"I have been wanting information on the signers of the Declaration of Independence. You usually only find info on a few but this was on all of them. Lyman Hall was a (I do not know how many greats) uncle of mine. I am using it in my home school. Great book! and I received it right away. Thanks!!!"
Cathy, Reviewer on Amazon
#37010 THE SIGNERS of the DECLARATION OF INDEPENDENCE: $12.00
#37011 STUDENT/FAMILY ACTIVITY PACK: $2.00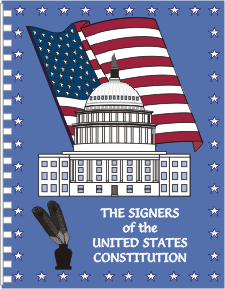 THE SIGNERS
of the
UNITED STATES CONSTITUTION
How did the United States Constitution come to contain the most copied form of government in the world and be a document that daily shapes our lives? The story of this miracle of man's genius is one that will inspire you to honor the fifty-five men who met one auspicious, rainy May in 1750. It was only by their dedication to the rights of man and fellow citizens of an emerging nation, that this masterpiece of a new government was conceived.
Over many long months of hot, summer weather, long debates, repetitious votes, and prayer - these men worked, played, and rested together to bring forth the United States Constitution. In this book, you will meet the men and relive the meetings that formed this document.
#37020 THE SIGNERS of the UNITED STATES CONSTITUTION: $15.00